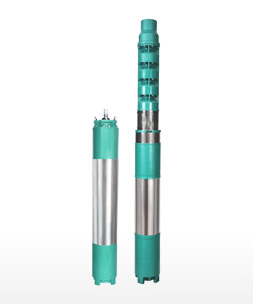 9" Submersible Pumpset ( 215mm Ø )
State of the art design delivers optimum performance and reliability in the toughest conditions.
Rubber & bronze bearing provide low friction and high wear resistance.
Easy assembling, dismantling. Easily serviceable pump & rewindable motors.
Suction screen and coupling are made of stainless steel.
High pumping efficiency for reduced running costs.
Extra long sealed top bronze bearing insures shaft alignment and stabilization for extended life.
Technical Specifications
H.P. Range
75.0 H. P. to 100.0 H. P. Three Phase
Operating head Range
80 to 252 Metre
Operating Discharge
760 to 2200 L. P. M. / 45.6 to 132.0 m3 /h
Rated Volts / Frequency
415 Volts +6% & -15% / 50 Hz in TP
Max. Temp. of Liquid
40°C
Max. Permissible amount of sand in the water
50 Grams / Cubic Metre Water
# Due to continuous efforts in improvements, information furnished above is subject to change without notice
A combination of multistage centrifugal pump and submersible motor, is designed for applications like:
Domestic water supply.
High rise buildings water supply.
Housing, complexes and bungalows water supply.
Gardens, farms and nurseries water supply.
Agriculture water supply.
9" Pumpset Available Range
9" Motor & 8" Mix Flow C.I./Radial Flow SS Submersible Pumpset
SUBMERSIBLE BOREWELL PUMPS