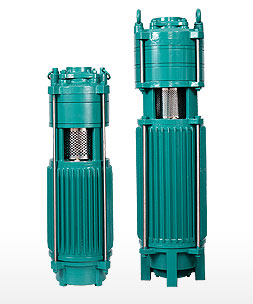 Vertical Openwell Submersible Pumps
Dynamically balanced rotating parts.
Flatter efficiency curve for efficient operation.
Non-overloading power characteristic for safety of motor.
Replaceable wearing parts.
No need of priming or foot valve.
Water shower arrangement for surface application.
Highly durable water cooled rewindable motor.
Foundation & installation not required.
Stainless steel motor body.
Gun metal bush bearing.
Noiseless operation.
Maintenance free water lubricated bushes.
Technical Specifications
H.P. Range
5.0 H. P. Single Phase
5.0 H. P. to 20.0 H. P. Three Phase
Operating head Range
28 to 160 Metre
Operating Discharge
160 to 1600 L. P. M. / 9.6 to 96.0 m3 /h
Rated Volts / Frequency
220 Volts +6% & -15% / 50 Hz in SP
415 Volts +6% & -15% / 50 Hz in TP
Max. Temp. of Liquid
40°C
Max. Permissible amount of sand in the water
50 Grams / Cubic Metre Water
# Due to continuous efforts in improvements, information furnished above is subject to change without notice
A combination of multistage centrifugal pump and submersible motor, is designed for applications like:
Agriculture water supply.
Industries water supply.
Drip and Sprinclur water supply.
Lift irrigation water supply.
Agriculture Vertical Openwell Pumps Available Range
Agriculture Openwell Vertical S.S. Mix & Mix Flow Radial Flow Submersible Pump Set
Agriculture Openwell Vertical S.S. Radial Flow Submersible Pump Set
Agriculture Openwell Vertical S.S. Radial Flow Submersible Pump Set