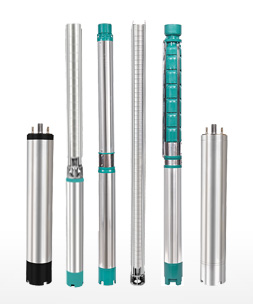 4" Submersible Pumpset ( 100mm Ø )
Proven & reliable design for critical conditions.
State of the art design, delivers optimum performance and reliability in the toughest conditions.
Mounting parameters and spline coupling are as per international NEMA standard.
Rubber & bronze bearing provide for low friction and high wear resistance.
Standard 2 pole, speed 2900 rpm motor.
High pumping efficiency for reduced running costs.
Lip seal and sand guard to prevent ingress of impurities into the motor.
Suitable for 90 mm borewell.
Noryl Bowl impeller set with S.S. neckring.
Technical Specifications
H.P. Range
0.5 H. P. to 5.0 H. P. Single Phase
1.0 H. P. to 7.5 H. P. Three Phase
Operating Head Range
15 to 363 Metre
Operating Discharge Range

22 to 310 L. P. M. / 1.32 to 18.6 m3/h
Rated Volts / Frequency
220 Volts +6% & -15% / 50 Hz in SP
415 Volts +6% & -15% / 50 Hz in TP
Max. Temp. of Liquid
40°C
Max. Permissible amount of sand in the water
50 Grams / Cubic Metre Water
# Due to continuous efforts in improvements, information furnished above is subject to change without notice
A combination of multistage centrifugal pump and submersible motor, is designed for applications like:
Domestic water supply.
High rise buildings water supply.
Housing, complexes and bungalows water supply.
Gardens, farms and nurseries water supply.
4" Pumpset Available Range
4" Radial Flow S.S. Submersible Pumpset
4" Radial Flow Deluxe Submersible Pumpset
4" Radial Flow "E" Series Submersible Pumpset
4" Mix Flow S.S. Submersible Pumpset
4" Mix Flow C.I. Submersible Pumpset
SUBMERSIBLE BOREWELL PUMPS