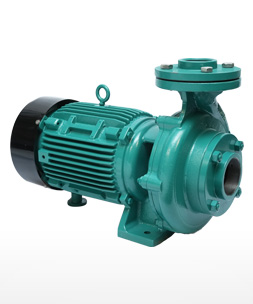 Centrifugal Monoblock Submersible Pumpset
Newly developed hydraulic & electric design make it most efficient & Reliable.
Motor windings are vacuum impregnated and laminations are non oriented silicon steel.
Superior mechanical shaft seal for longer life and effective sealing against water leakage.
All cast iron parts are made of close grained FG-260 grade which has life up to 15 years in clean water.
Fitted with thermal overload protector and double shielded ball bearing.
Able to run wide voltage band in single & three phase.
Technical Specifications
H. P. Range
1.5 H. P. to 3.0 H. P. Single Phase
1.5 H. P. to 3.0 H. P. Three Phase
Operating Head Range
6 to 28 Metres
Operating Discharge Range
190 to 1120 L. P. M. / 11.4 to 67.2 m3/h
Rated Volts / Frequency
220 Volts +6% & -15% / 50 Hz in SP
415 Volts +6% & -15% / 50 Hz in TP
Max. Temp. of Liquid
40°C
Max. Permissible amount of sand in the water
50 Gram/ Cubic Metre Water
# Due to continuous efforts in improvements, information furnished above is subject to change without notice
A Centrifugal monoblock pump set is designed for application like:
Pressure Boosting
Water Lifting
Irrigation
Fire Fighting
Domestic /Commercial water supply